As we are in the process of finalizing the list of participating cars for GulfRun7; we noticed that there was a surprisingly even representation of car makes across the board.  This brought us back to the discussions we have had over the years about the type of cars participating.  During GulfRun3, where we were shocked by the sheer number of Porsches that took part (43%). Then during GulfRun4 we were complaining about the lack of American muscle participating (with only one Dodge Viper). GulfRun5 was all about the open cockpit track monsters joining (4 Westfields and 3 KTM X-Bows). And then GulfRun6 brought on the return of American muscle with the the ridiculously powerful Corvette Z06/Z07 , Corvette ZR1, Ford GT and Ford Mustang Shelby.
One thing led to another, and the below charts were created to show you the amazing disparity in Car models that have joined over the years. The 'other' category is comprises of cars that have joined in limited numbers over the past 7 years (Noble, Cadillac, VW, Subaru, etc).
I believe the most surprising trend is the growth of Audi and Mercedes, going from almost non-existence to nearly surpassing the previous leader Porsche. BMW had a strong growth over the years but their numbers have dwindled significantly for GulfRun7 (16% to 6%). The Japanese cars continue to hold on to roughly 30% of the participating cars, trading digits between the modified monsters such as the Mitsubishi Evo and Nissan GTR. The Italians have always had a small presence over the years, with an average 5% over the years after GulfRun4. As the final list is being to shape up for the next GulfRun, it sets the stage for a very interesting competition between car models and drivers.
Participation and growth over the years: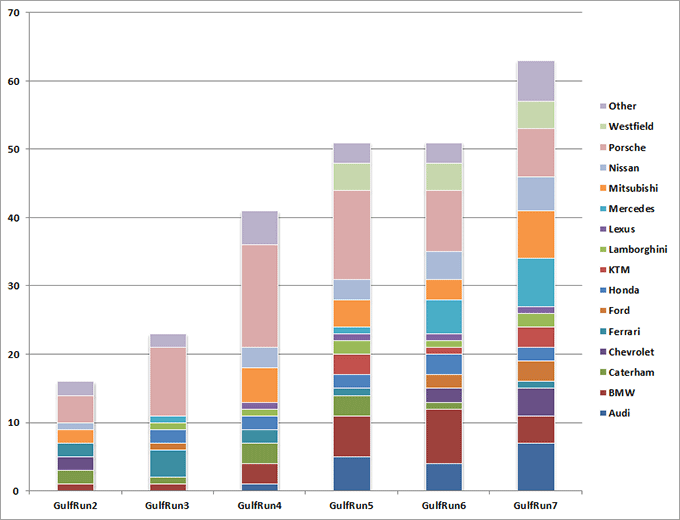 Breakdown of car makes over the years: