To complete my bolt-ons for my Evo X, I recently ordered 3 new parts which I'm really excited about, as two of them are discontinued from production because the companies are bankrupt. Check them out after the jump..
First, Its the Colt Speed Intercooler: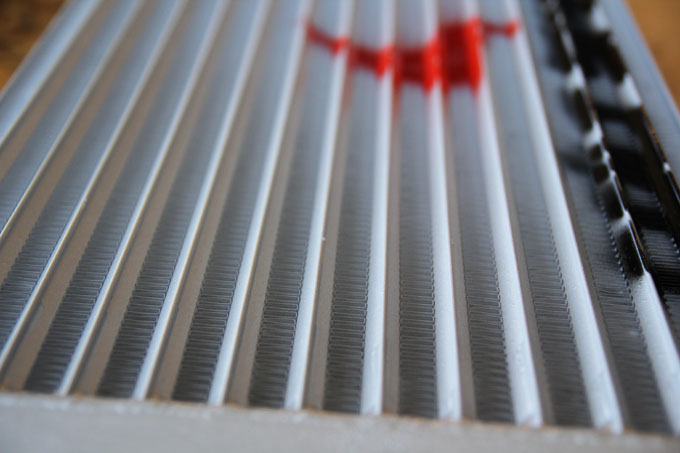 This intercooler is actually made by ARC re-branded by Colt Speed. I was originally looking for the ARC one, but they got bankrupt and all their products were discontinued. So I got this one brand new from a member in the forums at a good price which is exactly the same.  Even Colt Speed in Japan didn't have any, so I was lucky to find it. This intercooler is 2.5″ thick and only slightly larger than stock but is designed much better for better cooling efficiency. Advantages:
– It has a patented unique fin design which increases cooling efficiency significantly
– Inlet and outlet are designed in a way to avoid air turbulence inside
– Air flow speed in front of radiator is increased by 31.5% which results in better cooling and more air going through to the radiator which reduces water temperature.
– The intercooler is lighter than stock
– Only slightly larger than stock so there is no increase in turbo lag
– Its JDM, looks good and rare
Other intercoolers like AMS and ETS are great, but are heavy (increase around 15lbs in front of the car), have much bigger volume (which increases turbo lag), reduce the airflow to the radiator, and rated for over 700whp (which I will never get to). So this intercooler is the best for a street/track car. Its only disadvantage is that its very expensive, and very rare (not produced anymore).
Second, I got a Ralliart front strut bar:
I've been wanting this strut bar for some time and was planning to order it later on, but suddenly, I heard that the company Ralliart got bankrupt and all their products are discontinued. I contacted many companies for it with no luck, until I contacted DSG performance which were able to get me one from Japan. The main advantage of this strut bar is that its made from aluminum which is significantly lighter than stock which is made from steel. For a track car, you always want the weight to be as evenly distributed between the front and rear as possible. The Evo is much heavier up front which makes the car an understeer pig. Adding a heavy intercooler will only make it worse. So the intercooler and this strut bar will help reduce weight in the front.
Also, Im happy to have a Ralliart part in my car. Ralliart is now bankrupt so at least I have a piece of their history
I also go the AMS downpipe:
This is by far the best flowing downpipe for the Evo X, it completely replaces o2 housing and downpipe. Its made from cast stainless steel construction with no mild steel flanges and is 3″ wide at its narrowest point. Other steel downpipes are not designed as well and were proven to break. And I got it as a gift, so can't say no