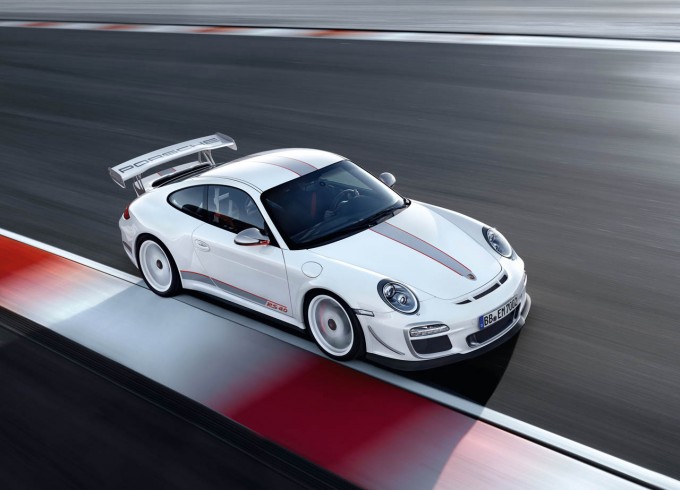 Here it is. The 2011 Porsche 911 GT3 RS 4.0. The ultimate naturally aspirated 911. As the name would suggest, this latest limited-edition 911 packs a 4.0-liter flat-six derived from the 911 GT3 RSR racer, complete with forged pistons, titanium connecting rods and a crankshaft pulled directly from its track-bred descendent. The result is the most powerful NA 911 to date, with 500 horsepower peaking at 8,250 rpm and maximum torque – 339 pound-feet – coming in at 5,750 rpm.
That massive engine partnered with a host of lightweight kit (carbon fiber buckets, front fenders, luggage compartment lid and "weight-optimized" carpets) allows the 2,998-pound (wet, mind) GT3 RS 4.0 to run to 60 mph in 3.8 seconds, crack 124 mph in less than 12 seconds and top out at 193 mph.
A six-speed manual is the only gearbox available and the Carrara (their spelling) White paint comes standard, along with central twin exhausts, massive rear wing and the first production application of air deflection vanes on both sides of the front bumper (dubbed "flics") to improve stability and exert an extra 426 pounds of downforce at speed.
And before you ask, the RS 4.0 ran the Nürburgring in 7 minutes and 27 seconds, putting it in contention for one of the fastest production cars ever run around the Nordschleife.
If you've got $185,000 laying around in your hedge fund, get your orders in now. Only 600 will be produced when sales begin later this year. More pics after the jump..