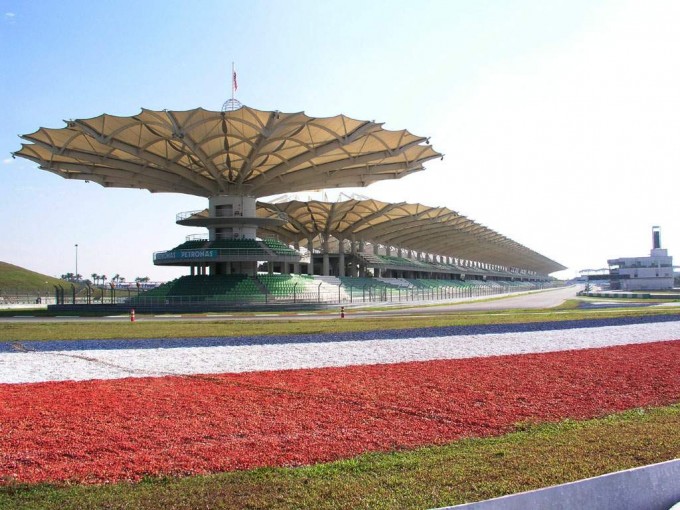 From an unusually cool Melbourne, Formula One heads to the hot and humid climate of Sepang, with Malaysia the next stop on our tour around the globe. The second race of the year looks set to sort the men from the boys as the tough conditions really put the cars and drivers to the test. Jump after the break to read all the details of the race
Event Schedule
Red Bull kicked off 2011 in the same style as they left 2010 – supremely dominant but wary of the competition. Sebastian Vettel ruled both qualifying and the race, putting everyone, including his own teammate, to shame. Those we thought would be battling for the lead were not, and those we didn't expect seemed to improve massively over winter testing.
Both Sauber and Renault showed improved pace, although the former has had to deal with a double disqualification, and go back to the drawing board on their rear wings. Renault have a podium place to live up to, and Nick Heidfeld will be hoping he can get through a weekend without sustaining debilitating damage to his car.
Ferrari and Mercedes both need to improve their pace this weekend, whether that is down to car setup or the new tyres or perhaps both. Further back, Force India will want to do better, while Toro Rosso can hope to continue their forward momentum.
Of course, it would be remiss of me not to mention HRT. They worked really hard over the Australia weekend and got little for their efforts. Failing to qualify either car for the race was a setback, but now they have had two weeks to get things right, we can hope that they are finally up to the task in hand.
| | | | |
| --- | --- | --- | --- |
| Date | Day | Session | Time (GMT+1) |
| 8 April | Friday | Free Practice 1 | 03:00 |
| | | Free Practice 2 | 07:00 |
| 9 April | Saturday | Free Practice 3 | 06:00 |
| | | Qualifying | 09:00 |
| 10 April | Sunday | Grand Prix | 09:00 |
The Weather
Looking ahead to what the skies will bring during the weekend, it seems as though thunder and rain are the best we can expect. The days may start out sunny but soon enough the clouds will form and then there will be a downpour. This could make it a very long weekend.
Friday, 8 April
31℃
Low: 25℃
Humidity: 68%
Thundery shower
Saturday, 9 April
30℃
Low: 24℃
Humidity: 69%
Thundery shower
Sunday, 10 April
30℃
Low: 24℃
Humidity: 69%
Thundery shower
Circuit Map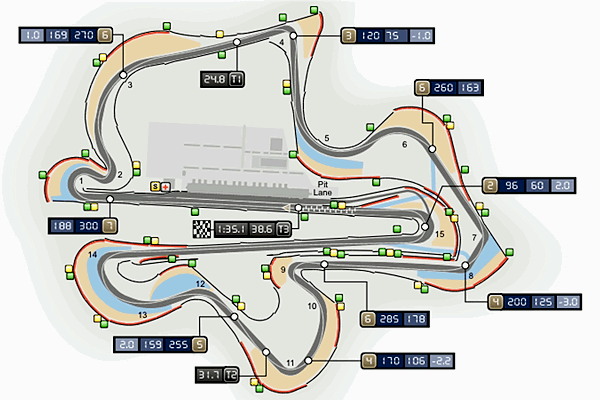 The Circuit
Circuit Data

| | |
| --- | --- |
| Name | Sepang International Circuit |
| Location | Malaysia |
| Timezone | GMT +0800 |
| First Race | 1999 |
| Laps | 56 |
| Length | 5.543 km |
| Distance | 310.408 km |
| | |
One of the main features of the Sepang circuit is the wide track, which could provide more room for overtaking. We should see more from the drag reduction rear wings as the long straights at the beginning and end of the circuit will allow for more opportunities to push that button.
The corners are fast and furious, so drivers will want their cars to have great balance and traction through the corners, but not enough to slow them down on the straights – speeds can get up to 310kph.
The race is delayed local time to accommodate the European audiences but that means it's more likely to be interrupted by a terrific downpour of rain – as we have experienced a couple of times already.
2010 Results

| Session | Driver | Team | Time | |
| --- | --- | --- | --- | --- |
| Free Practice 1 | Lewis Hamilton | McLaren | 1:34.921 | |
| Free Practice 2 | Lewis Hamilton | McLaren | 1:34.175 | |
| Free Practice 3 | Mark Webber | Red Bull | 1:33.542 | |
| Qualifying | Mark Webber | Red Bull | 1:49.327 | |
| Grand Prix | Sebastian Vettel | Red Bull | 1:33:48.412 | |
| Fastest Lap | Mark Webber | Red Bull | 1:37.054 | |
Tyre Compounds