The first of our back-to-back races occurs early in the season, with China following on from a pretty successful Malaysia Grand Prix last weekend. With the great and the good of Formula One descending upon the Shanghai International Circuit, we need to recap where we're going and what we're going to find there.
Event Schedule
Sebastian Vettel made it two for two in Valencia, with Red Bull remaining dominant for both races in 2011 so far. Even more worryingly, they were on the road to getting their KERS working, although it wasn't a reliable process for them in Sepang.
The good news is that the competition seemed far more fierce in Malaysia, and the trend seems to be heading in the right direction. Both Renault and McLaren were on top form (well, at least half of each team, anyway), although Ferrari continued to struggle.
In the mid-field, Force India and Mercedes picked up a handful of points here and there, but further down the order, Virgin seemed to struggle. HRT qualified and although neither car made it to the end of the Malaysian Grand Prix, they appear to be on the way up. Virgin need to watch out.
Hopefully we will see more of the same excitement this weekend – a super close qualifying to keep us on the edge of our seats, and then plenty of competition as the weekend progresses.
Session Timetable

| Date | Day | Session | Time (GMT+1) | |
| --- | --- | --- | --- | --- |
| 15 April | Friday | Free Practice 1 | 03:00 | |
| | | Free Practice 2 | 07:00 | |
| 16 April | Saturday | Free Practice 3 | 04:00 | |
| | | Qualifying | 07:00 | |
| 17 April | Sunday | Grand Prix | 08:00 | |
The Weather
The long range weather forecasts for Malaysia predicted rain throughout the weekend, and although there was plenty of precipitation, it missed the most important of sessions. This weekend there is more rain predicted, although it doesn't seem to be as heavy or as often as was forecast for Sepang.
Saturday seems to be the tricky day, with Sunday drying up. It looks like we won't see much of the sun, though.
Friday, 15 April
28℃
Low: 13℃
Humidity: 62%
Light rain showers
Saturday, 16 April
15℃
Low: 11℃
Humidity: 95%
Light rain
Sunday, 17 April
21℃
Low: 10℃
Humidity: 68%
White cloud
Circuit Map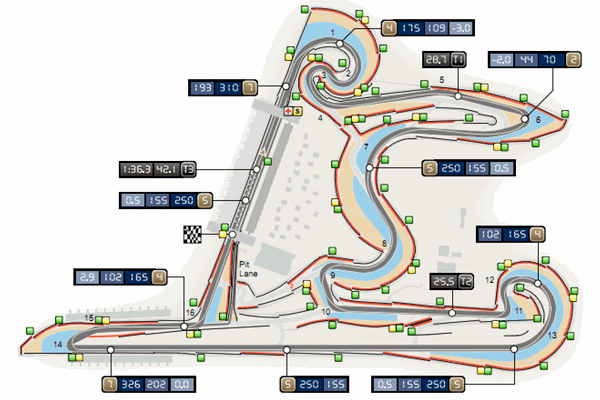 The Circuit
Circuit Data

| | |
| --- | --- |
| Name | Shanghai International Circuit |
| Location | China |
| Timezone | GMT +0700 |
| First Race | 2004 |
| Laps | 56 |
| Length | 5.451 km |
| Distance | 305.066 km |
| Start / Finish Offset | 0.190 km |
The Shanghai International Circuit looks impressive, the features were stunning when it first entered the F1 calendar in 2004. However, as the years pass, more wear and tear occurs. The track itself, designed by the infamous Hermann Tilke, has little to get spectators excited.
There are two super-long straights, so again we should see more action from the drag reduction systems. The braking can be tough, and with high speeds, levels of G can be higher than at other tracks.
After the high temperatures and humid air of Malaysia, China offers up some cooler ambient conditions, although it can still be a tough race of endurance.
2010 Results

| Session | Driver | Team | Time | |
| --- | --- | --- | --- | --- |
| Free Practice 1 | Jenson Button | McLaren | 1:36.677 | |
| Free Practice 2 | Lewis Hamilton | McLaren | 1:35:217 | |
| Free Practice 3 | Mark Webber | Red Bull | 1:35.323 | |
| Qualifying | Sebastian Vettel | Red Bull | 1:34.558 | |
| Grand Prix | Jenson Button | McLaren | 1:44:42.163 | |
| Fastest Lap | Lewis Hamilton | McLaren | 1:42.061 | |
Tyre Compounds
Video
S.Vettel onboard lap in Chinese Grand Prix 2010
http://www.youtube.com/watch?v=69NrcT9e-tI&feature=related