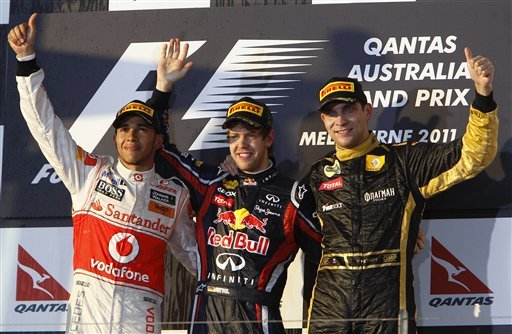 Sebastian Vettel dominated the Australian Grand Prix to win by more than 20 seconds from Lewis Hamilton.
A strong drive by Vitaly Petrov gave the Russian driver his first podium finish ahead of Fernando Alonso.
Red Bull kept quiet about the fact that neither of their cars were using KERS. They were worried they might be vulnerable at the start, but both drivers made quick getaways from the left-hand side of the grid and Mark Webber almost passed Hamilton for second.
Behind them Petrov jumped up to fourth and Felipe Massa made an excellent start to take fifth.
But Jenson Button was on Massa's tail and pressured him hard. He made several attempts to overtake, increasing his efforts once he was allowed to start using the Drag Reduction System, but couldn't find a way by.
Button eventually got alongside Massa on the outside of turn 11 and was squeezed off the track by the Ferrari driver. Button believed he deserved to keep the position but the stewards did not agree and handed him a drive-through penalty.
Alonso had fallen to tenth at the start but made his way back up the order, passing Kamui Kobayashi and Nico Rosberg. He latched onto the tail of the Button-Massa battle and moved ahead of his team mate.
But with the tyres wearing out quickly the drivers were soon into the pits. Webber was one of the first to come in on lap 12 to switch from soft to hard tyres – but he would need two more stops for more soft tyres before the race was over.
Alonso and Massa came in on the next two laps. Vettel was in on lap 15 and Hamilton two laps later.
Button had to make his pit stop after he had taken his penalty which dropped him down to 12th. He moved back up the order, passing Kobayashi for seventh, but the penalty left him on the back foot.
Vettel eased ahead of Hamilton during the second stint but Webber couldn't keep the same pace or look after his tyres as well. His extra stop dropped him behind Petrov and Alonso. Without KERS, Webber was powerless to make a pass on the Ferrari.
The Alonso-Webber battle caught Petrov at a rapid rate but they didn't catch the Renault driver in time to pass him.
Behind them Button caught Massa again but the second time around he was able to use DRS to pass the Ferrari driver at turn one.
Massa was another driver who made a third pit stop which dropped him for tenth. Late in the race he picked off Sebastien Buemi, who didn't seem interested in protecting his position.
The Sauber drivers took seventh and eighth place with Sergio Perez taing a remarkable seventh place. Even more impressive, he did it by only pitting once having started on the hard tyres.
The Force Indias of Adrian Sutil and Paul di Resta finished just outside the points, ahead of Jaime Alguersuari, Nick Heidfeld, Jarno Trulli and Jerome d'Ambrosio.
Neither Williams nor Mercedes finished the race. Pastor Maldonado retired early on and team mate Rubens Barrichello had an eventful race.
Barrichelo made an excellent move on Kobayashi early on as the pair were lapping Michael Schumacher. But he made a rash dive at Nico Rosberg and clattered into the Mercedes. Both retired, as did Schumacher.
Hamilton's efforts to catch Vettel were further delayed by damage to his undertray. Vettel ended the race with a comfortable 20-second lead which is an ominous sign for Red Bull's rivals for the rest of the season.