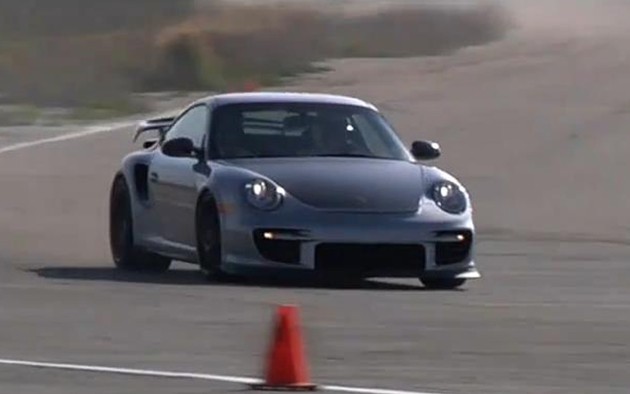 The first 20 examples of the Porsche 911 GT2 RS were delivered last month at El Toro Air Station in Irvine, California. Owners who picked up their cars at the event had the opportunity to log track time with Porsche driving instructors before being released on the streets with their new 620-horsepower terrors.
Porsche High Performance Cars manager Andreas Preuninger was on hand to oversee delivery of the car he spent the last four years developing as a skunkworks-style project. According to Preuninger, he and the engineers who developed the 997 GT2 and GT3 RS started the project during testing of the "regular" GT2 at the Nurburgring. Essentially, the design brief was to combine the stripped-down nature of the GT3 RS and the power of the GT2 to build the fastest 911 possible.
To get every detail nailed down, Porsche engineers logged nearly 435,000 testing miles and another 80,000 hours of engineering time.
The end result is a 620-horsepower lightweight Porsche 911 that set a 7:18 lap time around the Nurburgring. The most-powerful Porsche ever built, the 911 GT2 RS was designed not as a money-making venture, but an exercise in supercar muscle-flexing by Porsche. The fact that Porsche stuck with the project despite its dubious profitability makes it even more amazing. Hit the jump to watch video of the GT3 RS in action.