After owning my Evo X for a couple of months, I decided to start moding it to get abit more out of it. From factory, the Evo is an amazing car which is fast and handles very well, however its  tame and sounds way to soft. After a lot of research from people and forums, I got to know exactly what is needed to turn my poodle to a monster. Jump after the break to check it out.
Above is the dyno run I made after I installed my mods and tuned the car. You can see my dyno run when my car was stock here.
My car is now making 337whp and 315wtq. an 80whp and 70wtp increase from stock which is very good considering the few mods that I installed.
Mods installed:
– Perrin catback exhaust – replaces the restrictive exhaust to a high quality light weight full 3″ exhaust which sounds amazing. Its quiet when cruising and brutal when at full throttle
– AMS resonated test pipe – replaces the restrictive stock cat to a straight resonated pipe which improves air flow and keeps the noise to a minimum
– AMS upper intercooler pipe – the stock intercooler pipe is made of low quality material and tapers in the middle. The AMS pipe is a full 2.5″ aluminum pipe which improves airflow to the intercooler
– AMS cold air intake – a full 3″ intake system which places a K&N cone filter to behind the driver side front bumper, which makes cool air from outside to be drawn into the turbo.
– Perrin EBCS Pro – replaces the stock boost controller to a 3-Port Electronic Boost Control Solenoid for better boost control and response.
– AEM boost gauge and AEM air to fuel ratio gauge – added 2 gauges which are critical to always monitor the engine.
Installing parts is worthless if you dont properly tune the car. So I decided to do an E-tune with 4wstuning.com, a specialized tuning company in the states which can tune your car through emails. (I will be posting about that in a separate post)
Pictures:
Perrin Catback exhaust
AMS resonated test pipe with sensor spacer to avoid CEL errors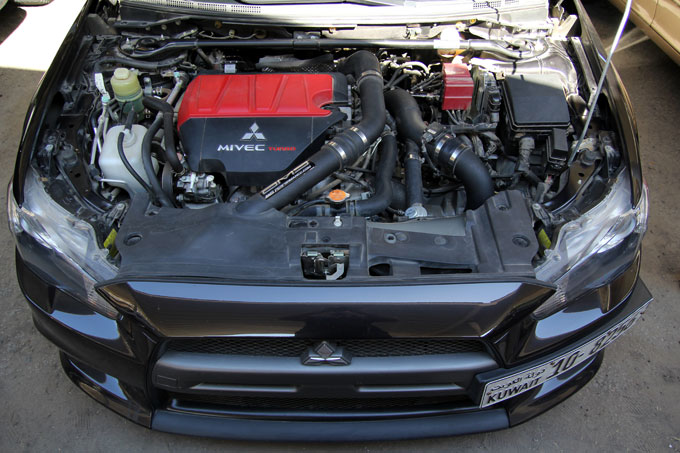 The engine bay
AMS upper intercooler pipe
AMS cold air intake
Perrin EBCS Pro
AEM gauges
Impressions:
WoW. The car has transformed to a whole different animal. The car is much faster, much more responsive and just keeps pulling hard to red line. One of the biggest problems of the Evo when stock is that power drops very quickly after 5K RPM, well not any more, the car at first gear takes off like a rocket and keeps pulling like a mad man to redline.  The sound of the exhaust, the intake and stock BOV is now incredible, I rarely turn on the radio. I'm very pleased with the result and how it drives. Exactly how an Evo should be 🙂