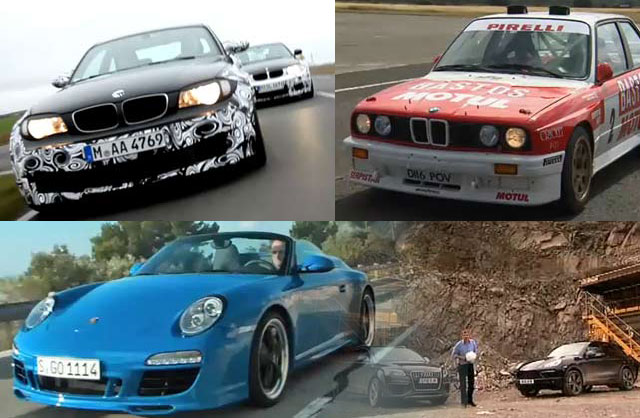 Click "More Information" below to check out some awesome new car reviews including the iconic E30 M3, the Porsche 911 Speedster, the BMW 1M and a battle between the new Porsche Cayenne Turbo and Audi's Q7 V12 TDI.
BMW E30 M3
Long before it became involved with MINI's Countryman WRC project, Prodrive achieved its first ever World Championship rally victory with this bad boy. Developed from the E30 Touring car, the 2.3L 300bhp M3 rally car revs to nearly 9000rpm and produces 300bhp. Here, Autocar's Jamie Corstorphine puts this iconic machine to the test at Prodrive's HQ in Oxfordshire.
–
Porsche 911 Speedster
Stephan Vermeulen drives the Porsche 911 Speedster for Dutch motoring publication, Autoweek. The Speedster fuses just about every extra on the 911 options list – 408bhp engine upgrade, carbon ceramic brakes, PDK twin-clutch gearbox – with some unique features. The most obvious of the latter is the Speedster's "look", achieved by chopping 60mm off the height of the windscreen and fitting a unique roof, which when retracted lies beneath that characteristic "hump" that extends to the tail.
–
Cayenne vs Q7
From the latest Fifth Gear, Tiff Needell and the newly crowned BTCC champion, Jason Plato compare two Goliaths of the SUV world, the Porsche Cayenne Turbo and Audi's Q7 V12 TDI.
http://www.youtube.com/watch?v=8hYo_JMjYd8
–
BMW 1M
Some weeks ago, BMW promised that you could "be the first to drive this car". Now this dream becomes true for 12 BMW M fans. Weeks before the official presentation of the BMW 1 Series M Coupé, they had the chance to test-drive the car and see it completely unveiled. Yes, were jealous…